Thermal Technology's Hydrogen Furnaces also known as our APF Series (Advanced Processing Furnace) product line has been a core TT product for decades providing fully automatic operation. Designed for high temperature processing of materials in wet or dry hydrogen, fully dissociated dry ammonia, inert gases or vacuum these furnaces meet the highest standards of safety in the industry. TT hydrogen furnaces utilize full refractory metal hot zones and radiation shield systems for a clean processing environment and the highest vacuum performance. Rapid heating and cooling enable high material throughput for economical processing of high end products. All systems feature side heating elements with optional top and bottom trim heaters available for excellent temperature uniformity throughout the entire hot zone.
The furnace configuration is tailored to the customer application either as a vertical or horizontal configuration. The loading can be either be front, top or bottom loading, with the most common being a bell-jar style where the material being processed is stationary during loading and unloading when the furnace chamber is raised to an open position for access. Options such as high vacuum, ultra-high vacuum, wet or dry hydrogen, and rapid cooling systems are easily accommodated. The APF Series systems are designed to the highest quality with safety and long service lifetime in mind.
Hydrogen Furnace (APF) Standard Design Features
Round or Square Hot Zones
All Stainless Steel Chambers
Stainless Steel Gas Plumbing
Fully Automatic Operation
Automatic Data Logging
High Quality Refractory Metals
Rapid Vacuum Pump-down
PLC and Touchscreen HMIs
Overtemperature Control
Monitored Water Circuits
Hot Zone Materials
| | | |
| --- | --- | --- |
| Element Type | Radiation Shields | Maximum Temperature |
| Tungsten Weave | Tungsten | 3,000°C |
| Tungsten Mesh | Tungsten & Molybdenum | 2,500°C |
| Molybdenum | Molybdenum | 1,800°C |
Common Sizes and Configurations
| | |
| --- | --- |
| Loading type | Working Zone mm (Inch) |
| Bell Jar | Ø 150 x H 300 (Ø6×12) |
| Bell Jar | Ø 200 x H 400 (Ø8×16) |
| Bell Jar | Ø 250 x H 500 (Ø10×20) |
| Bell Jar | Ø 380 x H 760 (Ø15×30) |
| Bell Jar | Ø 500 x H 900 (Ø20×36) |
| Bell Jar | Ø 600 x H 1200 (Ø24×48) |
| Bell Jar | Ø 600 x H 1500 (Ø24×60) |
| Bell Jar | Ø 900 x H 1200 (Ø36×48) |
| Bell Jar | Ø 1400 x H 2000 (Ø56×80) |
*Larger models as well as front-loading versions of similar sizes also available.
Hydrogen Furnace Models
Download Product Brochure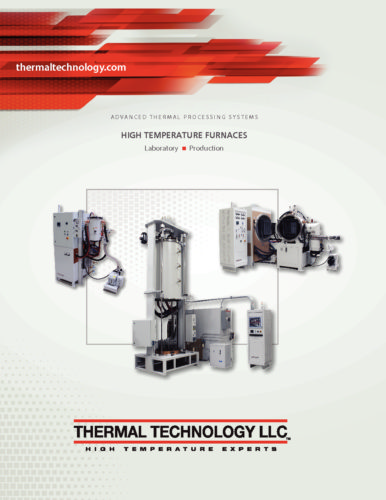 View Brochure