The High-temperature Graphite (HTG) Furnace is the most economical vacuum furnace system for processes that require high temperatures up to and above 2500°C that are not affected by a carbon containing environment, for materials please see our APF product line. High-temperature graphite furnace hot zones are made entirely from high purity graphite, and due to graphite's excellent thermo-mechanical properties allow rapid heating and cooling to reduce overall process cycles. In most applications the hot zone has a long operating life, but for aggressive materials hot zone replacement in the field is a fast and easy process.
Graphite Vacuum Furnace Orientations
High temperature graphite vacuum furnace systems are available in both vertical and horizontal orientations with round or square hot zones. Common configurations are either a radial heater for round hot zones and 2 or 4 sided panel heaters for square hot zones. More demanding applications in terms of temperature uniformity may require the addition of top and bottom trim heaters. HTG systems are designed to the highest quality with safety and long service lifetime in mind.
Standard Design Features
Round or Square Hot Zone
All Stainless Steel Chambers
Stainless Steel Gas Plumbing
Fully Automatic Operation
Automatic Data Logging
Operation to 2,500°C
Rapid Vacuum Pump-down
PLC with Touchscreen HMI
Independent Overtemperature Control
Fully Monitored Water Systems
High Temperature Graphite Product Examples
Common Sizes and Configurations
| | |
| --- | --- |
| Loading Type | Working Zone mm (Inch) |
| Front | W 300 x H 300 x D 300 (12x12x12) |
| Front | W 300 x H 300 x D 600 (12x12x24) |
| Front | W 400 x H 400 x D 760 (16x16x30) |
| Front | W 600 x H 600 x D 600 (24x24x24) |
| Front | W 600 x H 600 x D 900 (24x24x36) |
| Front | W 450 x H 600 x D 1500 (18x24x60) |
| Front | W 900 x H 900 x D 900 (36x36x36) |
| Front | W 1600 x H 1600 x D 1600 (65x65x65) |
*Larger models as well as bottom loading versions of similar sizes also available.
Download Product Brochure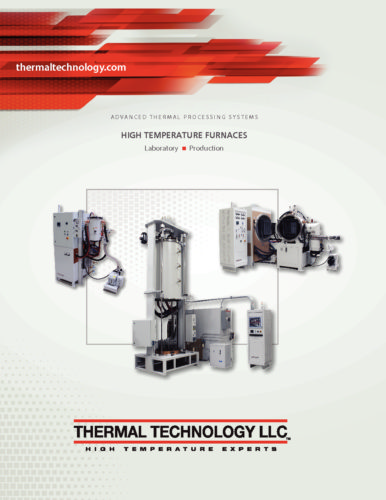 View Brochure