July 1998 — Thermal Technology delivered seven refractory metal hot zone furnaces to a customer in the United States. These seven systems are all Group 1100 lab furnaces, close cousin to the Group 1000 which has a graphite hot zone. Thousands of Thermal Technology laboratory furnaces are being used in dozens of different applications all over the world.
The customer's production application called for several different processes on very small components. Thermal Technology's lab furnaces' small volume, excellent reliability, and high degree of flexibility were a perfect match for this requirement.
Process parameters dictated the need for different levels of vacuum and cleanliness, hydrogen operation, and accelerated cool down times. These specifications required different ancillary features on the same basic units.
Having multiples of the same basic unit certainly has advantages. Operators easily become familiar with the same systems which facilitates gains in production and reduces possibility for errors. These gains are combined with reduced inventory needs for spare parts such as heating elements.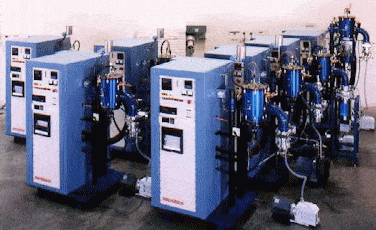 Different optional features seen on these furnaces include:
Hearth elevator.
Dry cryo high-vacuum pumping system.
Oil-less scroll pump.
Cool down chamber.
Automatic mass flow control for gases.
Combustible gas control system.