PRESS RELEASE
For Immediate Release – October 1998
Thermal Technology recently shipped a custom-designed large hot zone, refractory metal, vacuum furnace to NIN- Northwest Institute of Nonferrous Metal Research, National Rare Metal Material Processing Engineering Research Center in Shaanxi, P.R. China. NIN will use the Thermal Technology furnace for rare metal processing research.
Thermal Technology and NIN worked closely to develop a custom furnace specification that would satisfy NIN's needs within their budget. The bottom loading batch vacuum furnace incorporated many of the features found on Thermal Technology's Automatic Processing Furnaces (APF) as well as some innovative designs to meet the challenging requirements presented by the customer. The vacuum pumping system, gas controls and hydrogen safety system are proven technology from our APF line of high temperature, batch processing furnaces.
The large tungsten-weave heating element measures 20 inches in diameter and 36 inches tall. The tungsten element allows operation above 2500°C in hydrogen atmosphere for periods well
in excess of 24 hours per run. This furnace may be one of the largest refractory metal heating element furnaces ever produced for temperatures above 2500°C.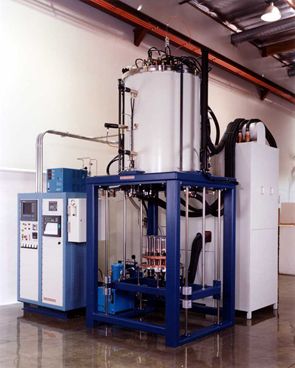 NIN's temperature uniformity requirements are ±10°C above 2000°C. This level of temperature uniformity is easily accomplished with Thermal Technology's innovative "chandelier" trim heaters. The top and bottom chandeliers were specifically designed for large hot zone furnaces requiring tight temperature uniformities. Thermal Technology manufactures all of its refractory metal heating elements in house, something other furnace manufacturers do not do. This allows Thermal Technology to carefully control the quality of its heating elements at the source rather than relying on an outside vendor.
NIN's processes require high purity hydrogen atmospheres. In order to assure this, Thermal Technology provided a hydrogen purification system to eliminate contaminants from the hydrogen supply.
Thermal Technology has over 75 years of combined experience in the business of engineering and manufacturing high temperature furnace systems. Visit us on the Internet or contact us directly for information on our full line of high temperature furnace systems. We will find a standard system to meet your needs or design a custom unit specifically for you.